VONS Homeopathic Remedies
---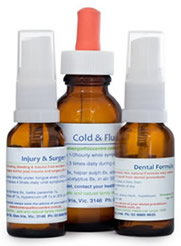 Homeopathic Centre is a uniquely established Practice, founded in 1948 by Dr Joseph von Moger, and specialising in acute and chronic illness.
We aim to empower our clients to seek a natural and safer alternative as a first choice rather than a last resort!
For Product information
please enquire : (03) 9889 9835
---
Von's Cold & Flu Formula


Traditionally used to relieve symptoms, fast tracks illness and helps to prevent reoccurrence.
Von's Injury & Surgery Formula

Traditionally used to reduce bleeding & trauma from accidents, sporting injuries, muscle strains and surgery. Also traditionally used for post trauma and surgery infections.
Von's Dental Formula

Traditionally used for symptomatic relief after dental treatment,and used to reduce the pain, bleeding and bruising that can result from dental procedures.